PJF'S BASEMENT
Books & Cards
To place an order, send an email to mike@pjfarmer.com to hold the item(s).
Shipping and insurance by priority mail will be at cost.
I accept PayPal, the #1 payment service in online auctions!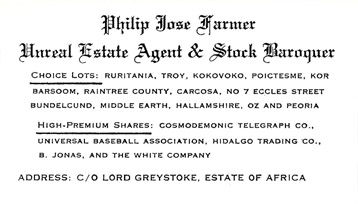 Phil's calling card
Card, date unknown
Phil's card, with the heading "Unreal Estate Agent & Stock Baroquer" shows a bit of his sense of humor. Recently discovered in his basement was a box of these cards, which is actually the second version of them as you can see here.
Right now we have a limited number of them for sale for $20 each. However, if you have purchased at least the first ten issues of Farmerphile you can purchase a card for only $10. $20.00 (or only $10.00 for regular Farmerphile readers)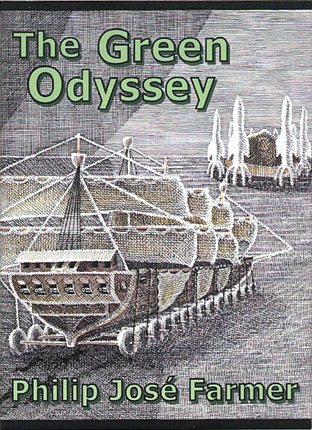 THE GREEN ODYSSEY
Ramble House, 2004 paperback (with dust jacket)
This handcrafted, illustrated edition of THE GREEN ODYSSEY, can be ordered through this web site. The micro-publisher, Ramble House, has long been a favorite of Phil's as he has bought many Harry Stephen Keeler books from them. - $20.00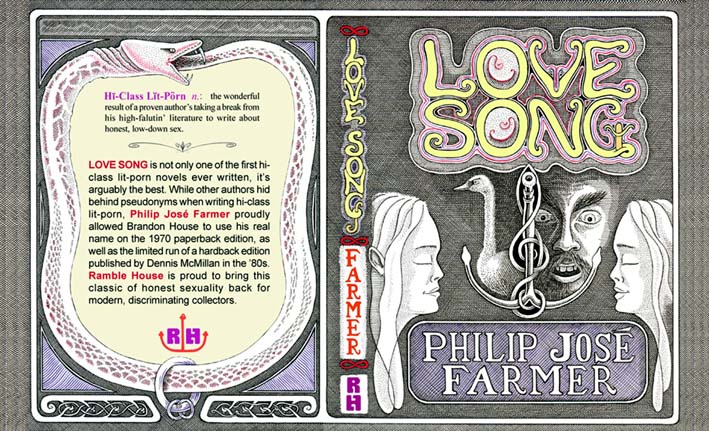 LOVE SONG
Ramble House, 2004 paperback (with dust jacket)
Philip José Farmer has agreed to let Ramble House sell another 100 books. And 15 of these are signed!!!
So now, this is a limited edition of 200 copies. 45 of these copies have been signed by Philip José Farmer, Fender Tucker (wrote the introduction) and Gavin L. O'Keefe (cover and interior art). 40 of these 45 are for sale for $100 each (the other 5 going to Gavin (1), Fender (1) and Phil (3)). That leaves 155 unsigned copies available for $30 each.
As of July 3rd this is what is available:
40 Signed Copies:
34 sold
6 still available
155 Unsigned Copies:
109 sold
46 still available
If you would like a copy, email Mike now to hold one for you and to make payment arrangements.
$30 may seem like a lot for a brand new paperback, but consider that this book has been long out of print. First paperback printings from 1970 go for $600 and more, if you can even find one, and the handful of hardcover reprints from 1983 start at $100. Over the past eight years doing this website, many people have asked me where they could find a copy of this book as it is the only book of Phil's that they have not read. I don't expect these books to last long.
Here is what one happy Farmer collector had to say about his signed copy of the book:
I received the book today and I have to say I was surprised by the quality of the item. Not only does it look professional but the dust jacket is unique and the art work is superb, even comparable to the exacting standards of the major press. I have to tell you at first I had reservations, being a small press, but seeing is truly believing and it was well worth every cent.

Thanks Mike. It is an item well worth collecting and treasuring....JT